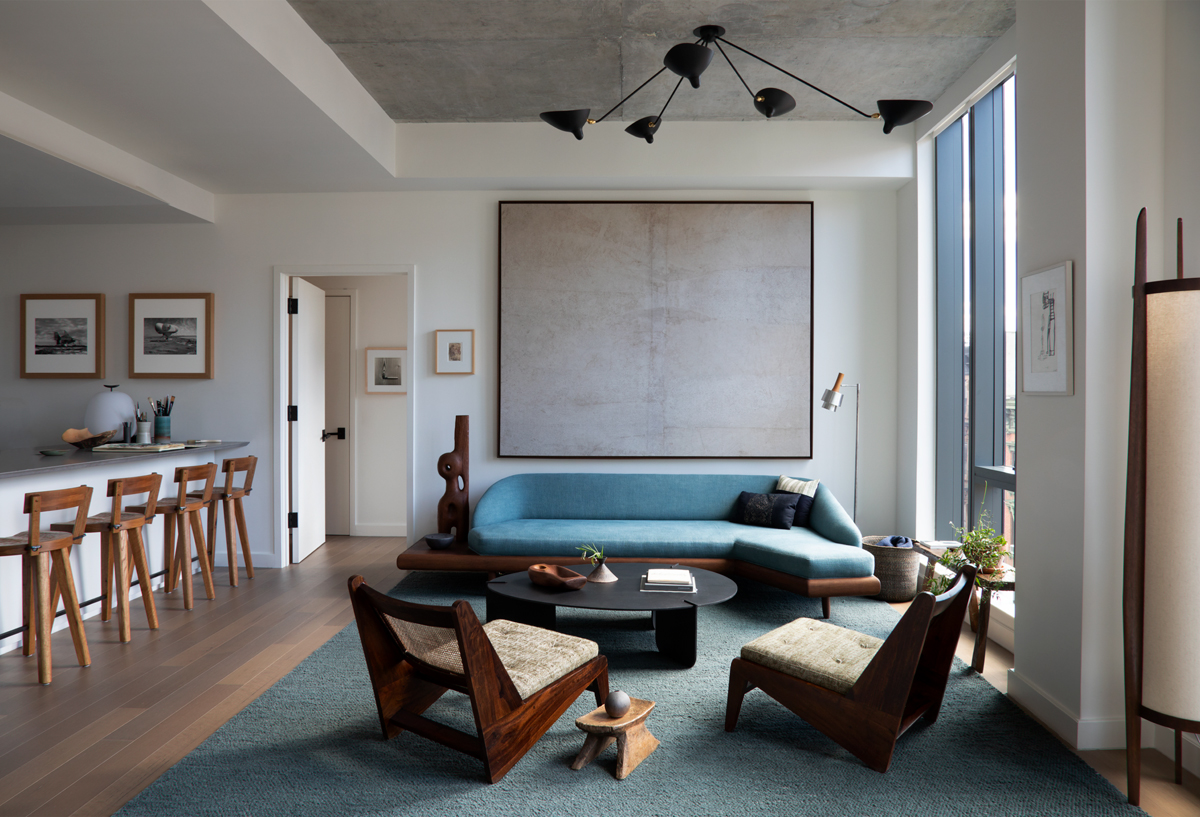 BORN IN…
Colombia and splitting her time between Miami and New York City, Sandra Weingort cut her design teeth while studying at the Parsons School of Design and working for celebrated architect/designer William Sofield. Today, Weingort runs her own design offices in Manhattan and Miami where she first met ad agency founder / creative director Joaquin Molla.
Weingort described her encounter with Molla as a meeting of creative minds – a true match in passion for design, art, and home. This aesthetic rapport eventually translated into a whirlwind design project that involved Weingort in both selecting and transforming a unique pied-à-terre for Molla in the heart of NYC's Lower East Side.
WEINGORT…
explained Molla's vision for the space to Architectural Digest* as, "the home of a 70-year-old man with an affinity for Japanese Modernism, design, and culture." While an unexpected request for a not-yet-gray Argentinian ad executive, Molla's vision was an apt match to Weingort's interior aesthetic; one that centers around a mix of significant collectibles, bespoke furnishings, and measured lack of pretension.
The project kicked off in a sun filled tabula rasa – a tall, stark white box that Weingort brought down to earth with low lying furnishings and a newly exposed concrete ceiling. A strong mid century through-line begins in the living room with a 1960s Boomerang Sofa by Adrian Pearsall and a pair of Pierre Jeanneret Kangaroo Chairs. The central coffee table is a custom piece designed by Weingort, while the Serge Mouille Spider Ceiling Light is classic 1950s.
THE RICH…
teal and wood palette is reminiscent (perhaps unintentionally) of another modern classic, in its similarity to Aarne Jacobsen's 1960s interiors for the Royal Hotel Copenhagen – a fitting reference for Molla's new home away from home.
In the kitchen, a simple peninsula serves as backdrop to four Furniture Marolles  stools, while a similarly elemental Nakashima dining table grounds a small dining space between the living room and bedroom.
LEFT OPEN…
to showcase a Johnny Abrams painting from Molla's art collection, the bedroom can fully section off via a sleek sliding panel – a modern day nod to traditional Japanese shoji screens. Other Japanese-inspired touches round out the space in the form of Isamu Noguchi paper lanterns, elemental potteries, and vintage Japanese textile cushions.
From selecting and renovating the apartment to sourcing antiques and creating custom pieces… it took Weingort a mere four months to breath life into Molla's vision – masterfully creating a visionary retreat for one worldly ad man.
Design: Sandra Weingort
Photo: Don Freeman